Landscape & Hardscape Services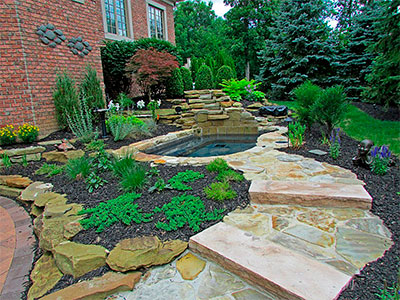 Rock Bottom Lawn & Landscaping is one of the region's most trusted hardscaping contractors, serving residential and commercial clients across Strongsville, Ohio. We are recognized for our unique and valued structures that are both inventive and high quality. As a respected and experienced company, we go all out to deliver outstanding experiences to our consumers. We strike the optimal balance of reliability, superior quality, and affordability, guaranteeing that you receive value each time you work with us. Our team can help you create new hardscapes from the ground up or enhance an existing site with a few features. They will help you with material selection, retaining wall construction, and paver installation to improve the beauty of your outdoor space. Our holistic approach ensures that the exterior areas of your business premises or residence are practical, sturdy, and easy to maintain. Our knowledge spans all areas of hardscape planning, layout, and installation, including installing various paver features. We provide residential and business clients with the following hardscaping and landscaping services.


Lawn Care Services
We are a full-service landscaping business offering competitive lawn care packages. While we provide specific basic packages, most of our customers want customized solutions, which we are pleased to deliver. This allows you to select the service you need and ensures that you get the most value for your money. We work with environmentally safe fertilizers and herbicides so that your grass is not exposed to harsh chemicals. When sod installation is necessary, we guarantee that the grass is sourced from reputable nurseries and is mainly weed- and disease-free, improving its appearance and health. Our lawn care staff works together to keep the lawn in the best possible condition. This increases its lifespan, and you can enjoy beautiful green areas on your property throughout the year. While we place a premium on quality work, we keep our lawn care costs to a minimum, reducing the ownership cost for your outdoor areas.


Landscape Services
We realize that you want to make a statement with your outdoor areas, so we have expert landscape designers on staff specializing in producing stunning landscape design concepts for your home. We begin the landscaping implementation process when you accept the design, vision, and products to be used. We only employ the best masons and installers. Our on-site supervisors ensure that the job is completed successfully. We prioritize using environmentally friendly components and procedures, including LED light fixtures and solar lighting, drip irrigation systems, and rain sensors. Together with energy- and water-efficient products, this methodology enables us to create spectacular and healthy outdoor areas for our customers. We can assist with softscaping design to develop well-balanced outdoor areas on your property along with various hardscapes. We choose the highest-quality goods and materials to create attractive but environmentally friendly outdoor spaces which provide lasting enjoyment to our clients.


Hardscape Services
Hardscapes play a critical role in the architecture of your landscape. They help define the contour and layout of your landscape and make it possible to explore your gardens without stepping on the grass. Hardscape installation needs expertise and knowledge, as with every part of a landscaping project. We produce hardscapes that will withstand the weather and the outdoors. We choose high-quality materials from various providers to guarantee the best possible installation. Our masons and professionals have completed several hardscaping projects and can swiftly install any component of your landscaping. We understand how critical it is to establish hardscapes before proceeding to softscapes installations such as lawns and gardens. A delay in the design and installation of the hardscape might cause a project delay. We understand this, so our specialists will complete the installation fast and effectively without compromising quality. We offer customized services and personalized attention for the best client experiences.


Hardscape Design
All landscapes begin with hardscaping, the foundation, basis, and structure. Your landscape's stability, integrity, and endurance are contingent upon the materials, components, and installation quality. Additionally, you'll want appropriate ideas and planning for valuable and practical landscaping. We are a full–service hardscaping specializing in the design and implementation of unique hardscapes. Our knowledge in this area allows us to create high-quality solutions within our customers' budgets. We ensure that each building we design for you is solid and long-lasting and that you get excellent value for money. Our experts will give extensive information about the different materials and related costs, enabling you to make an educated choice about the features and characteristics you choose. We build breathtaking outdoor settings that serve as the ideal background for your property's structures. Our skill and inventiveness in this area enable us to develop the most spectacular and artistic hardscapes for our customers' properties.


Paver Patios
If you want your patio to endure several years while being low maintenance, you must choose appropriate materials and all the other hardscaping components in your yard. Patio pavers are an excellent material choice, and we only propose the highest-quality materials to our clients. We deliver top-quality paver patio design and installation as a full-service hardscaping company. Due to the wide variety of paver products available, we give you all the necessary information about the many types of pavers obtainable to select the right one for you. Pavers come in various styles, sizes, colors, and patterns. Our staff will collaborate with you to build a gorgeous promenade or your entryway. We provide customized paver patio services at the most affordable rates, which means you get stunning outdoor spaces and value for money. Our team is here to cater to your unique requirements for residential and commercial patios.


Outdoor Kitchens
We have designed and installed some of the town's finest outdoor kitchens and other landscaping elements. We have years of expertise in this industry and understand precisely how to meet client needs and provide tailored solutions. Some clients choose basic designs and may want a grill and a small sitting space installed in the kitchen. With amenities and enhancements like grills, BBQs, refrigerators, and a kitchen island, these outdoor kitchens instantly transform into a place where families can unwind and enjoy their free time. You get a place that contributes to the functionality of your property's exterior spaces. When we oversee the whole design and installation process, we guarantee that the highest-quality materials and highly competent staff are employed on the task. Our detailed approach ensures that you receive a high rate of return on your investment and that your home's value increases significantly. We will work with you to help you create the perfect kitchen with all the amenities you need.


Outdoor Fireplaces & Firepits
Adding an outdoor fireplace or fire pit is an excellent method to achieve the atmosphere you want in your outdoor areas. When you install any of these features in your yard or garden, they help create a pleasant and comfortable ambiance on your property. We create custom fireplaces and fire pits for you, ensuring that the designs complement your property's current landscape and architectural features. We have developed a solid client base over the years, and many of our customers return to us for new construction or modifications to existing ones. While suggesting materials, we look at the materials and supplies employed before in the landscape and then incorporate comparable elements into the fire pits and fireplaces. We use various fire-resistant materials such as river stone or recycled glass in the pits to guarantee safety and lifespan. Our company will also help you plan the area surrounding the fire feature.


Seat Walls & Columns
We design and construct high-quality landscape seating walls and columns. Seat walls have a dual role of supporting the landscape and offering seating in the areas in which they are built. Installing custom-designed columns is an excellent way to give your back or front yard or landscaping a distinct look. We are innovative and practical in our approach, planning these features focusing on styling, robustness, and durability. Our professionals will ensure the flawless construction of these seat walls and columns. Occasionally, our clients prefer concrete walls since they are less expensive and easier to construct. If required, we can stone veneer these brick and masonry walls to give them an authentic, organic appearance. We can accomplish the same fantastic effect on columns to enhance their visual appeal. We can assist you with columns and seat walls for your household or business property. Our team is skilled and knowledgeable in all aspects of designing and installing these outdoor features, and they will ensure you get the structures you want.


Paver Stairs & Walkways
Paver walkways and stairs are an excellent way to enhance your landscape's appearance and make your outdoor spaces more inviting and distinctive. By incorporating custom-designed paths into your landscaping, you can increase your home's curb appeal while also improving the general flow of the landscape. We'll help create a walkway that is both attractive and useful, regardless of the style you prefer. There are several advantages to installing paver stairs and paths in your yard. We provide you with all the information necessary to decide on the best pavers for your application. Our specialization is the installation of stone, brick, and concrete pavers. We always use the highest quality materials to guarantee that your walkways last long while adding to your landscape's beauty and value. Pavers are available in various shapes, sizes, patterns, and colors. With our assistance, you can enjoy a lovely walkway leading up to your front entrance or stairs leading into your landscape.


Swimming Pools and Water Features
We are a locally owned and operated hardscaping company that can assist you in creating unique swimming pools and water features that will last for years. We can design and construct distinctive features for your property and its architecture due to our extensive industry experience. We create water features with a wide range of materials and can build waterfalls, streams, ponds, and fountains in the style you want. Our designers ensure that every aspect of your swimming pool or water feature compliments the overall appearance of your surroundings. Additionally, we offer material and design suggestions to ensure that the final product is nothing shy of extraordinary. We leverage our knowledge and creativity in the industry to ensure that clients get the best water features for their homes or commercial settings. We use the highest quality materials and supplies in every project, ensuring the longevity of your pool or water features.


Outdoor Structures
You do not necessarily have to add an outdoor kitchen or big sitting area to make your yard more functional. Many of our clients need something more straightforward and definite. Pergolas, arbors, gazebos, and trellises give your property a unique character and help it stand out. They offer lovely getaways where you can unwind and recharge from your hectic life. Additionally, these installations are relatively inexpensive and straightforward to maintain, making them excellent for those on a tight budget. Our company has installed several of these structures. Outdoor constructions are adaptable and have many options for designing these systems, and we can tailor them to your specifications and preferences. Because we customize these structures, you get the look, style, and durability you choose for your outdoor areas at a reasonable price. When you hire our services, you can be sure that you are getting value for money.

We have the experience and knowledge required to design and construct various masonry and landscaping elements on your property. You'll notice that your outdoors appears more spruced up and welcoming throughout the year with our assistance. Our company has built a reputation for quality in every aspect of hardscape design, development, installation, and upkeep. We have vast expertise in this industry and the requisite capacity to provide innovative solutions. We use the highest-quality methods and materials to create one-of-a-kind, low-maintenance outdoor settings. When combined with our adherence to quality, this approach creates fantastic value for our clients. For more details about these and our other landscaping solutions, please call Rock Bottom Lawn & Landscaping at 440-238-3808. If you prefer to write to us, please use the Online Form on this page, and we will contact you shortly to discuss your requirements.