Outdoor Fireplaces & Firepits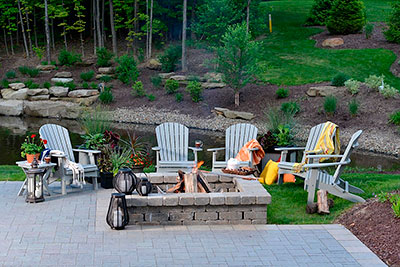 There is something very appealing about having a grand fireplace or a fire pit in the backyard. These features create a warm and inviting ambiance. These fire sources entice you to spend more time outdoors in areas that you've designed with such care.

Even a slight chill in the environment will not send you indoors. Apart from producing heat, you can also use these elements as cooking sources by adding a grill. Although outdoor fire features are an excellent addition to a landscape, you need skilled and professional landscapers for their design and installation.


Aspects to Consider While Planning Fire Features
Rock Bottom Lawn & Landscaping has been designing outdoor spaces and constructing fire pits and fireplaces in and around Strongsville, Ohio. When you employ our services to build these fireplaces or fire pits, we consider many factors, including the following:

You must carefully consider the location of the fire pit or fireplace. You must bear in mind that this is a fire source, and the structure will absorb and emit some heat as well. You should select the location with the safety element in mind, and you will need to include an appropriate sitting space around it.


Fire Feature Materials
Fire pits and fireplaces may be constructed from various materials, including brick, stone, and concrete. We will consider the design of your house and landscape and recommend materials for these aspects. Besides the materials used to surround the exterior, fire-resistant materials are crucial in these structures. Choose sandstone, flagstone, or river rock in cut stone or natural installation styles for a more natural aesthetic.

Fuel is a critical choice. If you prefer to utilize gas as a fuel source, we plan the gas line extension to the fire feature. Alternatively, you can burn wood; however, many areas have restrictions on wood burning, and we will work with you to determine whether it is feasible. Additionally, you can use a gas starter, but you will have to install a propane tank near the fire pit or fireplace.


Cost-Effective Fireplaces and Fire Pits
Your fireplace or fire pit design can be as basic or ornate as you choose. We always suggest that you bear your budget in mind, and we will work with you to create the best ideas and concepts possible within that cost. Regardless of your requirements, we will build the feature you want to enhance your yard's beauty and improve its usability.

We use high-grade, modern products and materials in all our work, ensuring the fire feature's longevity and durability. We also build these elements keeping your maintenance requirements in view, which helps reduce the overall amount you spend on their upkeep. Our company covers all its workmanship with warranties, which ensures the project's high quality.

At Rock Bottom Lawn & Landscaping, we provide superior outdoor fireplaces & firepits. For more details about these and our other landscaping solutions, please call us at 440-238-3808. If you prefer to write to us, please use the Online Form on this page, and we will contact you shortly to discuss your requirements.